10 Questions to Ask Before Choosing a Self-Storage Facility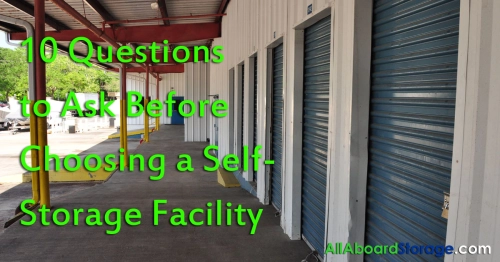 It's not likely that you would leave your valuables with a stranger, but when hiring self-storage companies near you, that's essentially what you're doing.
There are handful of questions you should be asking yourself before settling with a storage company to take on this responsibility.
Customer Service & Reputation
When you call the self-storage company, can you actually talk to an on-site property manager?
Being able to physically talk to the people who are going to be looking after your things is an important point.
Is the property manager professional, experienced, and easy to reach by phone or email?
Having an open line of communication to your property manager and also being confident in their experience will give you confidence in storing your things.
Does the storage facility have positive reviews overall from several different sources such as SpareFoot, Google, Facebook, etc.?
Be sure to check out reviews from around the web of the storage company you're looking at. We have some of the best overall reviews of our company and are always working on improving. The quality of service we provide you is our #1 priority.
Access & Quality
Can I access my storage unit 24 hours a day, any time I need?
You should be able to have access to your things any time that is convenient to you. It's your things after all.
Do the property managers encourage you to visit the storage rental unit facility regularly to give you confidence that your valuables are safe & secure?
You should be able to drop in any time on a storage facility to give you confidence in that company.
Does the property manager stress to you why having food in your storage unit can lead to rodents & other pests that can spread to the entire storage building?
Seeing how serious a company takes storing things such as food will give you confidence in that other customers are not putting your things at risk.
Security & Confidence
Is a security code required to enter and exit the storage facility, so that the property managers have an accounting of who is on-site and when?
Having security at your storage facility should be a top priority and give you peace of mind knowing that not just anyone can walk right into the area you're storing your things at.
Would you trust the property managers to watch over your valuables?
Once you talk to the property managers, you should have a good feeling that you can trust them and know that they're there to serve your needs.
Pricing
Are the rate & storage unit prices reasonable after the initial 30-day rental period ends & free of extra move-in fees or other hidden add-ons that might come after the "$1 move-in special"?
Your storage company should be offering a reasonable price to store your things and not price gouging you after your deal ends.
Do the rates you're quoted include insurance?
Insurance may be required at the storage company you're looking at whether it's through your own home-owners insurance or coverage that you can purchase through the storage company. Make sure you know whether or not your things will be covered.
Conclusion
We feel confident that any of these questions should be easily answered when considering All Aboard Storage as your self-storage company. Gaining and keeping our community's trust is one of our top priorities.
We will always strive to have the best reputation and build your trust so that you consider us as friend in the community. We're here to serve you.
More From All Aboard Storage