Mon

9:00am - 6:00pm

Tue

9:00am - 6:00pm

Wed

9:00am - 6:00pm

Thu

9:00am - 6:00pm

Fri

9:00am - 6:00pm

Sat

9:00am - 5:00pm

Sun

Closed
Mon

5:00am - 10:00pm

Tue

5:00am - 10:00pm

Wed

5:00am - 10:00pm

Thu

5:00am - 10:00pm

Fri

5:00am - 10:00pm

Sat

5:00am - 10:00pm

Sun

5:00am - 10:00pm

Enclosed Storage
Drive Up Access

Climate Controlled
Indoor
Elevator Access

Climate Controlled
Indoor
Elevator Access

Enclosed Storage
Drive Up Access

Climate Controlled
Indoor
Elevator Access

Climate Controlled
Indoor
Elevator Access

Enclosed Storage
Drive Up Access

Enclosed Storage
Drive Up Access

Climate Controlled
Indoor
Ground Floor Access

Enclosed Storage
Drive up Access

Climate Controlled
Indoor
Elevator Access

Climate Controlled
Indoor
Elevator Access

Enclosed Storage
Drive Up Access

Climate Controlled
Indoor
Ground Floor Access

Climate Controlled
Indoor
Elevator Access

Climate Controlled
Indoor
Elevator Access

Enclosed Storage
Drive Up Access

Enclosed Storage
Drive up Access

Enclosed Storage
Drive Up Access

Climate Controlled
Indoor
Elevator Access

Enclosed Storage
Drive Up Access

Climate Controlled
Indoor
Ground Floor Access

Climate Controlled
Indoor
Elevator Access

Enclosed Storage
Drive Up Access

Climate Controlled
Indoor
Ground Floor Access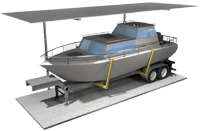 RV/boat Parking
Outdoor Parking
Didn't find your unit? Try these nearby locations
Self Storage and Vehicle Storage in Port Orange, FL
If you need additional space for your belongings, All Aboard Storage has you covered! Located on South Williamson Boulevard near Highway 95, our Port Orange storage facility offers a variety of affordable storage units to suit your needs in various shapes and sizes. We also have convenient amenities like car storage and advanced security technology in place for your satisfaction.
Some nearby landmarks include Cypress Head Golf Club, Crane Lakes Golf & Country Club, Willow Run Park, and Port Orange Fire Station. We are close to Spruce Creek High School, Spruce Creek Airport, and Kelly Park. Whether you live in Taylor Woods or Sawgrass Point, we can meet your many storage needs. Our convenient location allows us to serve the Port Orange community and its surrounding areas, such as:
Summer Trees
Sky Meadows
Reedy Creek Acres
Seminole Woods
Summer Trees South
Dunlawton Centre Condo
Port Orange Gateway Center
Royal Palm
Broken Bow Estates
Livingston Homestead
Take the first step in finding a suitable self storage unit in Port Orange by browsing our online inventory or contacting us today!
Storage Amenities in Port Orange
You'll enjoy the many benefits that come with self storage at All Aboard Storage in Port Orange, whether you're looking for a mini storage unit or a larger space. We exclusively offer month-to-month storage rentals in Port Orange, and all of our indoor units are climate-controlled. You can determine how much space you need with our size guide and space estimator.
Secure Storage Units in Port Orange
We understand you may feel anxious about storing things away from your home, especially if it's your first time. That's why we have advanced security measures at All Aboard Storage so that you won't have to worry. Notably, we have video cameras recording the premises 24/7 to enhance the sense of secure storage in Port Orange.
Climate Controlled Self Storage Units in Port Orange
Florida's warm temperatures and year-round sunshine can damage your belongings if left unchecked. In response, All Aboard Storage in Port Orange offers temperature-controlled storage units to keep them safe. Renting climate-controlled storage prevents fading, warping, and other problems. This helps when storing delicate items or items made of sensitive materials, such as:
Wooden or leather furniture
Books and documents
Electronics
Vinyl records
Musical instruments
And more!
Vehicle Storage and Parking in Port Orange
Invest in car storage in Port Orange from All Aboard Storage to avoid juggling many vehicles at home. Whether you're working on a fixer-upper, inherited an extra car, or have another set of wheels you don't have room for, we have several spaces that can help you create the parking space you need.
RV Parking Near Highway 95 in Port Orange
Home organization is already challenging, but when you add a large RV or camper into the mix, things get even more complex. Your neighborhood or HOA may even forbid you from parking your RV outside. All Aboard Storage offers Port Orange RV storage options that can help. Located near Highway 95, we make it easy for you to reach many outdoor attractions like Tiger Bay STate Forest, Daytona International Speedway, and the Atlantic Ocean.
Boat Self Storage in Port Orange
Finding a secure place to dock in Port Orange can be a challenge when you're returning from a fishing trip or a day floating on the waves. Are you looking for a place to store your boat after a tranquil and indulgent day on the water? We have options for boat storage Port Orange, FL, that can accommodate. We make it easier than ever to find the boat storage space you need.
Office Units in Port Orange
Our office units offer cost-effective solutions for businesses and entrepreneurs seeking affordable workspace options. Renting Port Orange office storage units at our facility provides flexibility and savings over commercial leases or long-term rentals.
Renting self storage units and office space in the same location streamlines operations and improves efficiency by facilitating access to inventory and supplies. A storage facility can offer small business owners, freelancers, and startups the perfect workspace solution.
Office Spaces in Port Orange
Business success depends on having enough storage space. All Aboard Storage offers flexible and affordable office space rentals in Port Orange. Whether you have a single employee or a team of many, we can help you optimize your operations. For inventory, supplies, equipment, documents, and other essentials, you can store them in climate-controlled storage.
Rent Online Today with All Aboard Storage on S Williamson Blvd
All Aboard Storage is here to help you find the Port Orange self storage space you need. We have a wide variety of affordable storage units that can meet the needs of businesses, homeowners, and more. Check out our other storage facilities in Port Orange, FL:
Explore our list of frequently asked questions or blog to learn more. Then, contact us or reserve your Port Orange self storage space today!
Features & Amenities
Every storage feature is designed from scratch against standards forged from years of experience in the self storage industry. The result is a high quality consistent customer experience you can count on.
24 Hour Video Surveillance
All Major Credit Cards Accepted
Commercial Space Available
Dollies and Carts Available