Mon

9:00am - 6:00pm

Tue

9:00am - 6:00pm

Wed

9:00am - 6:00pm

Thu

9:00am - 6:00pm

Fri

9:00am - 6:00pm

Sat

9:00am - 5:00pm

Sun

Closed
Mon

5:00am - 10:00pm

Tue

5:00am - 10:00pm

Wed

5:00am - 10:00pm

Thu

5:00am - 10:00pm

Fri

5:00am - 10:00pm

Sat

5:00am - 10:00pm

Sun

5:00am - 10:00pm

Enclosed Storage
Drive Up Secure Access

Enclosed Storage
Drive Up Secure Access

Enclosed Storage
Drive Up Secure Access

Enclosed Storage
Drive Up Secure Access

Enclosed Storage
Drive Up Secure Access

Enclosed Storage
Drive Up Secure Access

Enclosed Storage
Drive Up Secure Access

Enclosed Storage
Drive Up Secure Access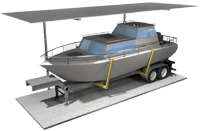 RV/boat Parking
Secured/Paved/Pull Through
Didn't find your unit? Try these nearby locations
Self Storage, RV Storage, and Plane Storage in Daytona Beach, FL
All Aboard Storage presents an ideal solution for Forest Lake homeowners seeking to declutter and organize their living space. Our self storage units in Florida provide ample space and features that cater to your storage needs. Since our facility is located near Ridgecrest, you can access your belongings with ease. But that's not all! If you love traveling on the road with an RV or in the sky on a plane, our self storage facility in Daytona Beach at Aviation Center Parkway near Daytona International Speedway offers an ideal location to store all sorts of vehicles.
Located moments away from Rosella Park, All Aboard Storage can be the most convenient option for you! Our strategic location near Embry-Riddle Aeronautical University and the Museum of Arts & Sciences makes us accessible for anyone looking for storage solutions in the area. For those residing in Georgetowne, finding our storage facility can be no trouble at all.
Looking for storage solutions in Daytona Beach, FL? Look no further! Our facility is an excellent choice for residents in:
St. Andrews Highlands
Madison Heights
Indigo
Find the Perfect Unit For Your Needs
Finding a suitable self storage unit that meets your needs is essential, and our Daytona Beach team can help you. With a vast selection of storage amenities, including modern security features and vehicle storage options, we make storing your belongings a straightforward experience. Whether you need mini storage or a larger unit, our size guide and space estimator offer detailed information to help you make the right decision.
Secure Enclosed Self Storage in Florida
At All Aboard Storage, security is our top priority. Our Daytona Beach location offers secure, enclosed self storage spaces and many features to increase your peace of mind. Our facility has a fenced perimeter and gated access which helps to prevent unauthorized access to the property. Additionally, we have security cameras throughout the premises to record activity 24/7. Rent a secure storage space at our location on Aviation Center Parkway today and store with confidence.
Affordable Vehicle Storage Options in Daytona Beach
If you're looking for affordable vehicle storage options in Daytona Beach, FL, you've come to the right place. Our facility provides secure and reliable solutions for storing your vehicle when you need car and RV storage in Daytona Beach. By renting one of our affordable vehicle storage units, you can free up your garage or driveway space in the blink of an eye.
Our facility offers a range of amenities, including 24/7 digital video recording, gated access, and easy payment options. Our affordable rates and flexible rental options allow you to store your vehicle without breaking the bank. Choose our facility for reliable and cost-effective vehicle storage solutions in Daytona Beach.
Convenient Boat Storage Near the Halifax River
Boat storage in Daytona Beach with All Aboard Storage is the perfect solution for those boating across the Halifax River and looking for a secure, convenient place to store their boat. Our proximity to the Halifax River keeps your vessel close to the water. Choose All Aboard Storage and rest assured that your boat is in good hands.
RV Storage in Daytona Beach Near Highway 92
At All Aboard Storage near Highway 92, we offer the perfect storage solution for RV enthusiasts in Florida. Our RV storage units are easily accessible from various landmarks, including Daytona State College, offering a convenient location for your storage needs.
Come to our Daytona Beach location today and explore the range of available storage options we have here on Aviation Center Parkway. Trust us to provide safe and secure storage for your RV while you're not on the road, and enjoy peace of mind knowing that your vehicle is well-protected.
Airplane Storage Near Daytona Beach International Airport
If you're looking for a secure and reliable storage option for your airplane near Daytona Beach Golf Club, then look no further than All Aboard Storage. Our airplane storage facility offers a variety of storage options, including indoor and outdoor storage units, to meet your specific requirements.
With 24/7 surveillance and gated access, you can rest assured that your airplane is secure when stored with us. Furthermore, our storage facility is near Daytona Beach International Airport, so you can access your plane when ready to take off. Renting airplane storage from All Aboard Storage ensures you have a cost-effective solution to protect your valuable asset while ensuring it is always accessible and ready for your next adventure.
Find Your Storage Unit Today With All Aboard on Aviation Center Parkway
Are you seeking self storage or a plane hangar in Daytona Beach? All Aboard Storage can help with that! We offer a wide range of storage options, including enclosed storage and affordable vehicle storage, to provide you with the best storage solutions in the area.
And if you need storage at another location in Daytona Beach, we've got you covered. You can rent from us at any of the following locations:
For additional information on storage options, visit our FAQ page and blog. To start your self storage journey, browse our online pricing for our available units in Daytona Beach, or call us today with any questions!
Features & Amenities
Every storage feature is designed from scratch against standards forged from years of experience in the self storage industry. The result is a high quality consistent customer experience you can count on.
24 Hour Video Surveillance
All Major Credit Cards Accepted
Commercial Space Available