Mon

9:00am - 6:00pm

Tue

9:00am - 6:00pm

Wed

9:00am - 6:00pm

Thu

9:00am - 6:00pm

Fri

9:00am - 6:00pm

Sat

9:00am - 5:00pm

Sun

Closed
Mon

9:00am - 6:00pm

Tue

9:00am - 6:00pm

Wed

9:00am - 6:00pm

Thu

9:00am - 6:00pm

Fri

9:00am - 6:00pm

Sat

9:00am - 5:00pm

Sun

Closed

Climate Controlled
Indoor
Ground Floor Access

Climate Controlled
Indoor
Ground Floor Access

Climate Controlled
Indoor
Ground Floor Access

Climate Controlled
Indoor
Ground Floor Access

Climate Controlled
Indoor
Ground Floor Access

Climate Controlled
Indoor
Ground Floor Access

Climate Controlled
Indoor
Ground Floor Access

Climate Controlled
Indoor
Ground Floor Access

Climate Controlled
Indoor
Ground Floor Access

Climate Controlled
Indoor
Ground Floor Access

Climate Controlled
Indoor
Ground Floor Access

Climate Controlled
Indoor
Ground Floor Access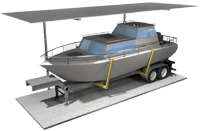 Outdoor Parking
RV / Boat Parking
8' x 9'
Office / warehouse
9' x 10'
Office / warehouse
9' x 10'
Office / warehouse
9' x 11'
Office / warehouse
10' x 10'
Office / warehouse
9' x 14'
Office / warehouse
Didn't find your unit? Try these nearby locations
Climate-Controlled Self Storage in Daytona Beach, FL, on Mason Avenue
Looking for a place to keep the extra things you can't find room for at home or work? Allow All Aboard Storage to lend a hand. We offer a wide range of affordable storage units in Daytona Beach, FL, with options available for both personal storage and commercial storage in Daytona Beach. Our units come fitted with state-of-the-art amenities like climate-controlled storage and advanced security technology to guarantee your satisfaction.
You can find our Daytona Beach storage facility on Mason Avenue in the middle of town. We're located on the end of the strip of businesses that includes ProSource of Daytona Beach and Tropical Gourmet, and just across the street from ALDI and Sunny Isle Jamaican Caribbean. If you zoom out a bit, we're also close to Taco Bell, the Holly Hill Plaza, and Rufus G Buddy Young Jr. Park. We're less than a five-minute drive from Bethune-Cookman University and Daytona State University, which makes us a top choice for student storage in Daytona Beach as well.
We proudly serve the entire Daytona Beach community and the several neighborhoods it contains, including:
Roosevelt
Mason Heights
Sunnyland Park
Fairglen
Coquina Lake
Colemans Daytona
Kingston
Mason Park Homes
Long
Beverly Hills
Hillcrest Homesites
Start the process of finding the perfect Daytona Beach self storage unit for you today by giving us a call or browsing our availability online!
Find a Self Storage Unit Optimized For Your Needs
Renting one of All Aboard Storage's self storage units in Daytona Beach can present many benefits no matter what you're storing. We have multiple sizes available to ensure you can find what you need, whether you're looking for furniture storage, storage during a move, or a commercial storage option such as document storage.
Use our size guide and space calculator to pinpoint exactly how much space you should rent, then check out our online pricing and storage deals through our website.
Easy Access Climate-Controlled Storage Units in Florida
While Florida's warm weather is enjoyable for us people, it can actually cause some serious damage to your belongings if left unchecked. For the best protection, invest in one of All Aboard Storage's climate-controlled storage units in Daytona Beach. These spaces are kept between a consistent range of temperatures year-round to help prevent discoloration, warping, and more. This can be especially valuable when storing sensitive items, including:
Wooden or leather furniture
Books and documents
Electronics
Vinyl records
Musical instruments
Anything made of leather, lace, etc.
And more!
Clean Self Storage Facilities in Florida
All Aboard Storage operates a well-maintained and clean self storage facility in Daytona Beach so that you're comfortable every step of the way. We offer indoor storage units located just next to our leasing office, as you'll be able to access your space anytime between 9:00 a.m. and 6:00 p.m. Monday through Friday and 9:00 a.m. to 5:00 p.m. on Saturday. We also have many security measures in place such as digital video recording to provide you with extra peace of mind.
Office Spaces for Rent in Daytona Beach
Successfully running a business is hard, especially if your space is limited. That's why All Aboard Storage offers flexible and affordable office space rentals in Daytona Beach. Whether you're a one-person operation or manage a team of employees, our office space rentals can help you optimize your operations. Alternatively, you can use a climate-controlled storage unit for business storage, perfect for keeping your inventory, supplies, equipment, documents, and other essentials for your commercial operations.
Convenient Vehicle Storage in Daytona Beach, FL
One of the easiest places to run out of space is in the garage or driveway. If you find yourself frequently juggling multiple vehicles or simply need some extra room to park, come to All Aboard Storage. We offer options for vehicle storage in Daytona Beach with outdoor parking spaces available that measure up to 12×30 in size. We're located right off of Mason Avenue and not far from Highway 92, which makes us a top choice for car storage in Daytona Beach.
RV Storage Located Near Highway 92
It's tough to find room for your RV at home, and many neighborhoods or HOAs even prohibit you from parking it outdoors. Thankfully, All Aboard Storage offers options for RV storage in Daytona Beach. Our 12×30 parking spaces can accommodate campers and trailers in addition to smaller RVs and motor homes. We're located within a short drive of many nearby outdoor recreation areas, including Tiger Bay State Forest, Lake George State Forest, and more.
Boat Storage Located Near the Halifax River
Nothing beats the feeling of spending a day on the water, whether you're fishing, swimming, or just floating along. But when it comes time to return home, it can be tough to find a place to drop anchor. All Aboard Storage offers options for boat storage in Daytona Beach that will allow you to securely store your boat away from home until your next adventure. We're located just over a mile away from the Halifax River in addition to other destinations like Lake George, Lake Monroe, and of course the Atlantic Ocean.
Rent a Storage Unit With All Aboard Storage on Mason Avenue
Give yourself the space you need to get the most out of life with All Aboard Storage. We offer several options for affordable Daytona Beach storage with spaces tailored to the needs of students, businesses, homeowners, and more. Our units come fitted with amenities like climate-controlled storage and digital video recording to elevate your experience to the highest level. If you can't find what you need here, explore our other storage facilities in Daytona Beach:
Looking to learn more? Explore our FAQ and blog for additional information. Once you're ready to get started, give us a call or rent or reserve your Daytona Beach self storage space online today!
Features & Amenities
Every storage feature is designed from scratch against standards forged from years of experience in the self storage industry. The result is a high quality consistent customer experience you can count on.
24 Hour Video Surveillance
All Major Credit Cards Accepted
Commercial Space Available
Dollies and Carts Available